Videoplaylist #59.
Abril / April 2013: R. Marcos Mota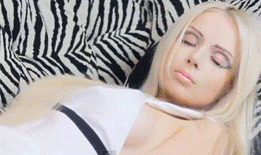 Prostituta. Cada vez más prostituta, cada vez más barata. Pluriempleada, unas veces escort, otras arquitecta, otras lo que le echen. Sabe adaptarse a cualquier condición y darle la vuelta. Se desplaza. Está temporalmente nervioso. No promete nada. No es travesti, es verbo.
——
Prostituta. Cada cop més prostituta, cada cop més barata. Pluriempleada, unes vegades escort, d'altres arquitecta, d'altres el que li llancin a sobre. Sap adaptar-se a qualsevol condició i donar-li la volta. Es desplaça. Està temporalment nerviós. No promet res. No és travesti, és verb.
——
Prostitute. More of a prostitute every day, cheaper all the time. Moonlighter, sometimes an escort, an architect, or whatever gets thrown at her. She goes hungry, nobody comes knocking, but that's all gonna change… yes. She can adapt to any situation and turn it around. She moves. She is temporarily nervous. She does not promise anything. She NOT a transvestite, she is Word.